~ $9.99 VALUE GROUND SHIPPING ~ FREE ON GIFTS OVER $100 ~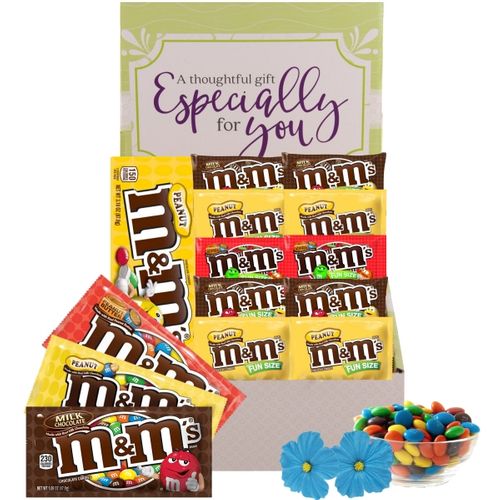 Gift may be shown with optional upgrades.
To minimize this we highly suggest using Next Day delivery when shipping Chocolate to warmer climates (75 F or above. Bisket Baskets will include Ice and Insulation at no additional cost with Next Day delivery. All chocolate is shipped at your risk.
Shipping Chocolate & Heat Sensitive Items Policy.
CAUTION: Chocolate will melt in the heat!
M&M's Study Feast College Care Package
Item Code: BB-21-800CC
Details
This Gift Includes:
One (1) Movie Style Box M&M's
Three (3) M&M's Full Size
Ten (10) Fun Size M&M's
Decorative Shipping Box/Container
Hand Written Gift Message
Designed at the time of your order to ensure the freshest gift possible
Gift Size 8" x 8" x 3"
*Our Designers will create your gift using the freshest candy available.
Possible Candies are (depending on availability):
M&M's Milk Chocolate
M&M's Peanut
M&M's Dark Chocolate
M&M's Dark Chocolate Peanut
M&M's Peanut Butter
M&M's Almond
Other M&M's varieties as available.
Description
Encourage those boring study sessions back in the dorm rooms with our M&M's Study Feast College Care Package. It will be one hand turning pages and the other hand popping those delicious M&M's candies all the while the eyes are reading and the brain is actively pursuing knowledge; all because it's being fed chocolate! College students love receiving gifts so become their hero and send some M&M's their way soon!
You may also be interested in our
M&M's Gift Basket
M&M Madness Candy Bouquet
M&M's Candy Gift